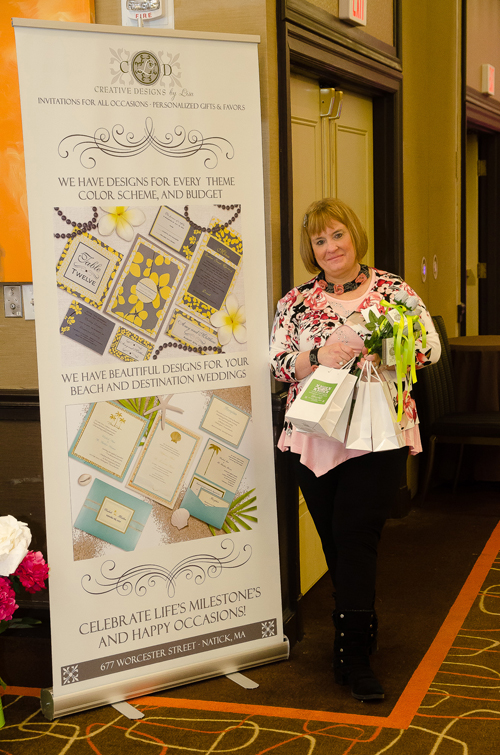 MOM
ENTHUSIASTIC SHELL COLLECTOR
CREATIVE DESIGNER
COMPETITIVE BALLROOM DANCER
DETAIL ORIENTED
PASSION FOR LIFE, LOVE & ANIMALS
I've lived in Massachusetts my entire life. I love creating detailed custom invitations, personalized gifts and favors. Nothing makes me happier than creating something beautiful for my customers. This is why I do what I do. 
I have a BA in Graphic Design from the University of Massachusetts Amherst, starting off my career working as a graphic designer for an ad agency for ten years. My next endeavor was opening a gift basket company. This is where I developed my passion for packaging, which is now conveyed in the personalized gifts and favors I offer my customers. With the birth of my beautiful daughter, I started another business called Artwear Designs. This was a hand-embellished clothing business. My last endeavor before opening Creative Designs by Lisa was working as an Art Assistant for an invitation and stationery manufacturing company in Boston. My extensive background allows me to come up with custom creative design solutions for an array of customers, budgets, while meeting a variety of personal tastes. 
I am obsessed with shells. Sorry, that was so random! Anyways, I love to eat sushi and would consider giving up my best friend for dark chocolate. I said "consider". I love to laugh and will randomly breakout into dance and find laughter and fun in the fact that I do so. I donate a percentage of my business profits to the Northeast Animal Shelter, to name but a few. 
At my studio, I've assembled a special boutique like environment where my clients can review custom sample books, touch paper, look at specialty embellishments, engage in open conversation about their special event needs, enjoy a tasty snack, sip a drink and feel pampered during this special time in their life. I have been in business since 2002 and like to bring a certain "element of surprise" to the work I do. This has provided me with many Invitation design awards. For me, I have always considered myself an artist and enjoy surpassing client's expectations. That's what it's really all about. Enough about me. Let me hear about you.